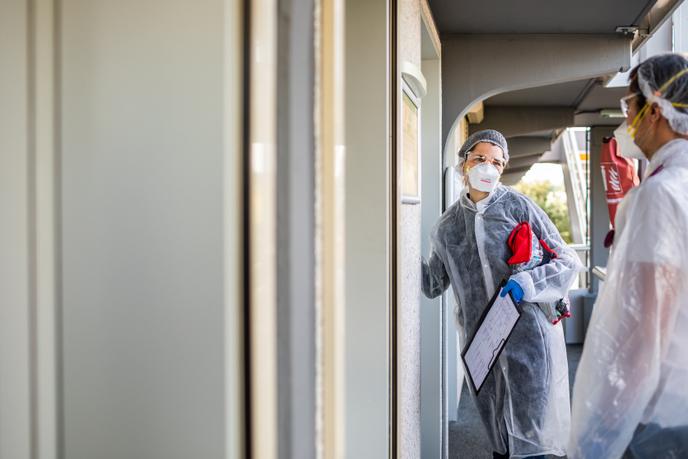 The confinement of the French "Will be extended" beyond April 15 and Emmanuel Macron will present his decisions on Monday to continue the fight against the epidemic, after consulting in all directions, the Elysée Palace announced on Wednesday April 8 to Agence France-presse (AFP). He will speak just after the "clapping" of 8 pm, a daily meeting during which French people applaud the healthcare workers on their windows.
Read also
Coronavirus: the Elysee Palace confirms the extension of confinement after April 15
By Monday, the head of state "Will consult a large number of public and private actors, French, European and international, in order to exchange with them on the major issues relating to Covid-19 and to prepare the decisions which will be announced to the French on Monday", said the Elysee.
Wednesday, Mr. Macron met with experts from the World Health Organization (WHO) and he will also discuss by Monday with some of his European partners, with his scientific council and with elected officials from the field, on the key elements related to the pursuit of containment and the exit strategy, including masks, vaccines and tests, explained the presidency.
A slower increase in intensive care patients
The Covid-19 epidemic continued to cross France and the death toll rose on Wednesday. "The tension is barely easing in certain resuscitation services in certain regions but becomes even stronger in others", said Director General of Health Jérôme Salomon in his daily update.
541 additional deaths have been recorded in hospitals since Tuesday, bringing the total toll to 7,632 people dead since 1er March ;
The assessment concerning accommodation establishments for dependent elderly people (Ehpad) and medico-social establishments could not be updated today. "Due to a technical problem". The total balance in this type of structure therefore remains 3,237 dead, as on Tuesday;
The total balance is currently estimated at 10,869 people died in France from the Covid-19, to be put into perspective by the absence of taking into account the number of deaths in social and medico-social establishments;
30,375 people are hospitalized for a coronavirus infection (348 additional bed places allocated to Covid-19 patients in twenty-four hours), including 7,148 serious cases in intensive care; 482 people have been transferred to intensive care since the previous day;
However, with discharges, the net increase in the number of patients in intensive care is less and less strong, with a balance of + 17 (against + 59 Tuesday, + 94 Monday and + 140 Sunday). This indicator, which measures the number of bed openings, is widely followed by professionals because it puts pressure on the health system.
While 6.3 million workers are affected by short-time working, the country's gross domestic product (GDP) has collapsed by 6%, according to the Banque de France, which published its first business survey taking into account the effects of the containment measures which came into force on March 17.
Read also
Global trade and coronavirus: the threat of collapse
Given the 0.1% drop in GDP in the fourth quarter of 2019, France therefore entered a recession – this one being characterized by two consecutive quarters of drop in GDP. Overall economic activity dropped 32% during the fortnight of containment in March. Compared to the 2008 financial crisis, the drop in activity is much greater.
A clinical trial has started
While awaiting a possible vaccine, a clinical trial consisting in transfusing blood plasma (the liquid part of the blood which concentrates antibodies after an illness) from people who have been cured to "Patients in acute phase of the disease" started.
Article reserved for our subscribers

Read also
Coronavirus: a clinical trial on blood plasma begins in France
In France, the first plasma samples began on Tuesday. Two hundred people healed are concerned and sixty patients are included in the clinical trial (thirty will receive convalescent plasma and thirty a placebo), before "A first assessment" in "Two to three weeks", according to the Public Assistance-Hospitals of Paris (AP-HP), the National Institute of Health and Medical Research (Inserm) and the French Blood Establishment (EFS). Each plasma donation could "Save three or four lives"Eldad Hod, a transfusion specialist who leads the experiment at Columbia University's Irving Hospital, said.
France continues to receive masks
Meanwhile, France continues its efforts to stock up on masks, and its "Safe orders" now reach 1.6 billion copies, said the Minister of Health, Olivier Véran.
The government is continuing to recommend that it be used only by caregivers and infected people. Regarding hydroalcoholic gel, on the other hand, "There is a very high production" and "We are no longer in difficulty" in this area, said Professor Salomon.
Director of ARS Grand-Est sacked
The government ended Wednesday the director of the Regional Health Agency (ARS) Grand-Est of Christophe Lannelongue, who had caused an uproar by Friday believing that there was "No reason to question" the interdepartmental committee for the performance and modernization of the hospital care offer (Copermo), which provides for the abolition over five years of 174 beds (out of 1,577 in 2018) and 598 positions at the Nancy regional hospital center (on about 9,000).
Our selection of articles on the coronavirus