The abolition of slavery was commemorated in Rotterdam on Tuesday evening, with a special meeting at the Rotterdam Shipping and Transport College. Mayor Ahmed Aboutaleb of Rotterdam gave a speech and called for "keep talking honestly" about slavery.
Aboutaleb states that it is up to everyone to give people a face that was sold as slaves back then and was reduced to numbers. According to him, this should not only be done through research, but also by continuing to read and talk about it. "Not as a political trick to pretend that something is marked and then pass it by. It has to come from the heart. If we understand each other better, we will be stronger in the end."
As far as Aboutaleb is concerned, blaming the current generation for horrible deeds of the past does not help build a strong society. "History should be used to build human bonds and not to disperse people again."
The mayor also referred to the current racism debate and the discussion about statues. "It is good to think about the past and how some were elevated to heroes. This creates room for discussion, room for forgiveness and historical satisfaction. Today's images cannot erase what happened at the time."
Normally, the annual commemoration is held at the slavery monument on the Lloydkade, but was moved to a lecture hall because of the rain. However, the mayor placed a wreath on behalf of the city council at the monument and two minutes of silence were held.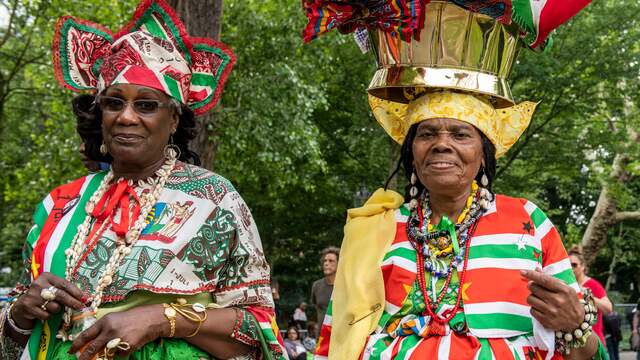 The celebration of Keti Koti in 2019 in the Oosterpark in Amsterdam (Photo: Pro Shots)
Keti Koti is celebrated by corona this year on a small scale and online
The commemoration was held on the eve of Keti Koti, the holiday on which the abolition of slavery in Suriname and the Antilles is commemorated and celebrated. Keti Koti means "Shackles Broken" in the Surinamese language Sranantongo.
On July 1, 1863, the abolition of slavery released over 45,000 originally African enslaved people. July 1 is a national holiday in Suriname. Officially, the day there continues as the Day of Freedoms.
Normally, the Keti Koti party is celebrated exuberantly in the Oosterpark in Amsterdam, but this is canceled due to the corona measures this year. However, other small-scale initiatives have been organized in numerous cities and a Keti Koti Festival Online can be followed via Facebook on Wednesday afternoon.
Rotterdam names five streets after fighters against slavery
Earlier in the day, it was announced that Rotterdam will be naming five streets in the Charlois district after people who fought against slavery and colonial rule in Suriname and the Antilles.
The nomination was already made in November 2019 by a Rotterdam activist. Tulastraat, Thicopad, Janey Tetarypad, Virginia Gaaipad and Bonipad are part of a new construction project, where the first residents will move in in 2021.
.