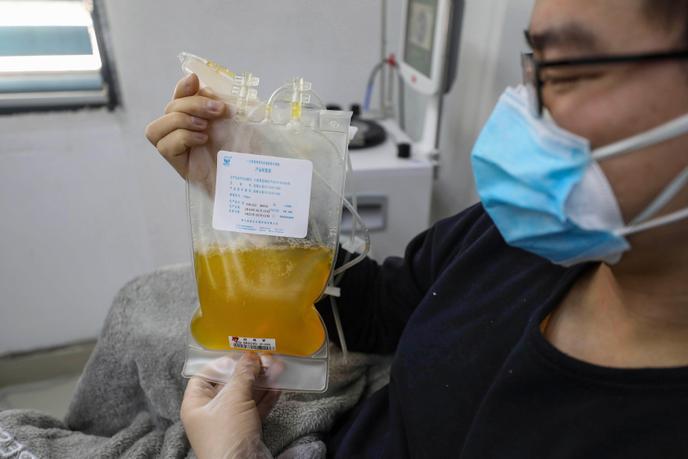 Tuesday, April 7, a clinical trial called "Coviplasm" began in France, with the launch of a campaign to collect blood plasma from former patients with Covid-19. The objective is to benefit from the antibodies they have produced to defend themselves against the new coronavirus, by injecting this plasma into patients in the hope that it will strengthen their immune defenses against SARS-CoV-2. Plasma is the part of the blood obtained by centrifugation containing in particular the antibodies.
Several trials of this type have already been launched around the world, based on this principle of immunotherapy, already experienced for a century, notably during the Spanish flu of 1918-1920. More recently, during the SARS and MERS epidemics, also due to coronaviruses, it had been tested, just like on Ebola, showing encouraging results, but on small numbers – which did not confirm his interest in large scale. In severe measles or chickenpox, this is also a route sometimes considered.
Regarding Covid-19, a Chinese study of five patients on mechanical respiratory assistance was published in late March. Three were discharged after more than fifty days in hospital, but the fate of the other two, described as "Stable", was not specified. A second result was published on Monday April 6 in the PNAS (reports from the United States National Academy of Sciences) by a Beijing team. The study only covers 10 patients "Severely affected", who was transfused with 200 ml of convalescent plasma, in addition to standard treatment and administration of antivirals.
"Various degrees of resorption"
"All the symptoms present in these ten patients, especially fever, cough, shortness of breath and chest pain, disappeared or greatly improved between one and three days after the transfusion", report the Chinese researchers. The level of antibodies measured in five of the patients rose rapidly. The lung lesions observable by radiography showed "Various degrees of resorption" after seven days. Viral load became undetectable in seven of the patients.
"This study showed that plasma therapy for convalescents was well tolerated and that it could potentially improve the clinical outcome by neutralizing viremia in severe cases", concludes the Chinese team, while noting that determining the optimal dose and measuring clinical benefits "Require further investigation in larger, well-controlled trials".